How Coronavirus Has Impacted the East Bay Real Estate Market
We are now about a month into the shelter-in-place mandate in California. Just enough time to start to understand how Coronavirus is impacting the East Bay real estate market.
On March 26th, I sent out this newsletter to clients and colleagues giving my thoughts and predictions on how this would play out. At that time real estate agent activities, including in-person showing of homes was deemed non-essential and the only way to buy a property was by breaking the law, or by making the purchase ahead of stepping through the front door.
As you can imagine, there are very few home buyers who are ready to spend hundreds of thousands of dollars to buy a home they haven't seen, and for those non-essential couple of weeks the market stood still.
In early April real estate agents were deemed essential again and showings were allowed to resume (with several caveats listed below)
While we are still very early, here is what the data is showing us so far:
The number of new listings is greatly reduced
The number of homes listed for sale is far below what we saw last year. Many sellers are either deciding to wait, have decided the process has become too difficult, or no longer have the resources to move at this time due to the impact of Coronavirus.
Compare these two graphs of the number of New and Sold listings in 2019 and 2020. This data is only for detached residential homes in the East Bay. Specifically Contra Costa and Alameda Counties.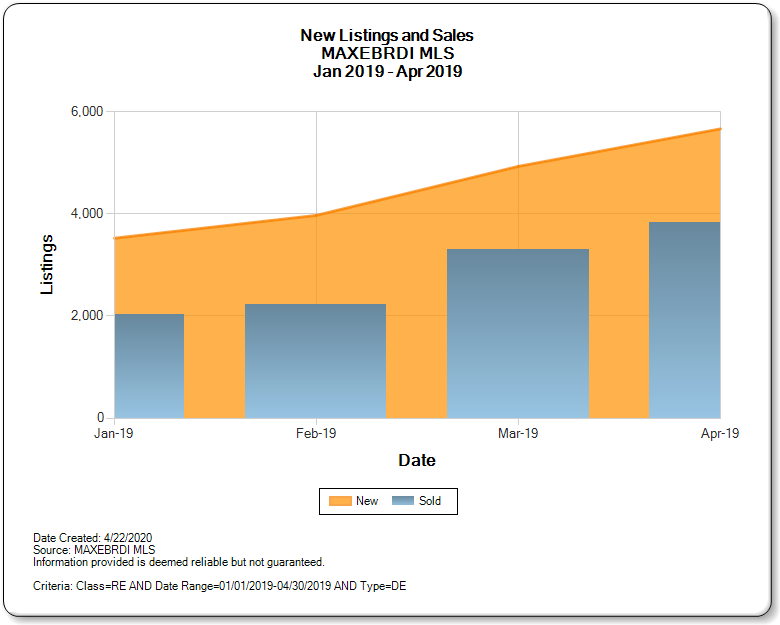 While we started the year much like 2019, once the impact of the virus was better understood the number of new listings began to decline. Today we have 25% fewer homes on the market than we did this time last year.
While it's too early to assess how home values have performed over the past month, this lack of homes for sale may somewhat counteract the expected price drops from the rising unemployment and salary reductions.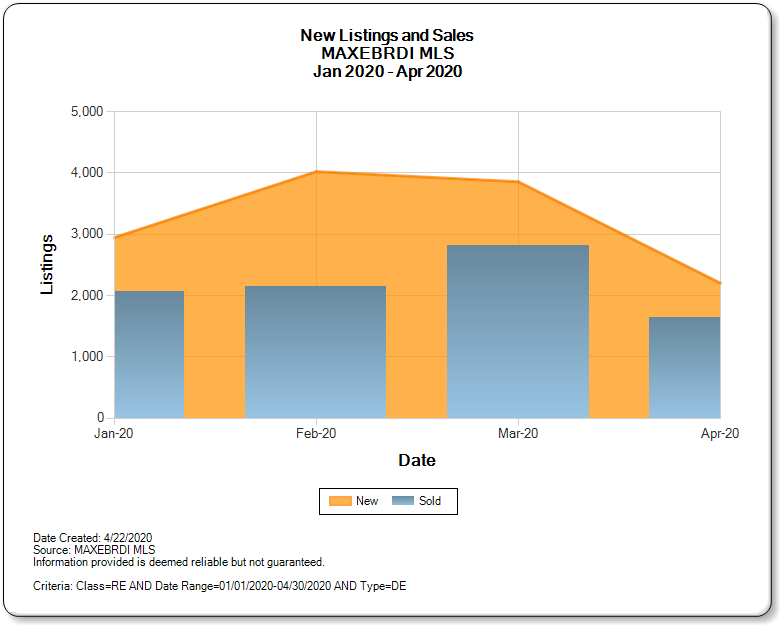 Transparent Pricing Becomes Mainstream

If you have spent any time looking for a home in the East Bay over the last several years you've likely been frustrated by the underpricing dynamic. This is where a seller's agent would recommend an artificially under market price for a home in order to encourage competitive bidding and ultimately net the highest price for the property. In the interest of protecting our community, the majority of agents have begun recommending Transparent (or near to transparent) Pricing. That is a price closer to or at what the seller is expecting their home to sell for. Transparent Pricing cuts down on the number of showings and makes sure that only the most qualified buyers will come to see the home. I would estimate that 80% of East Bay homes on the market are currently listed at a transparent price.
Real Estate Agents are Finding Ways to Get Homes Seen While Maintaining SIP

We are now about a month into the shelter-in-place mandate in California. In this "new normal" we must find a way to continue serving our clients while continuing to protect the community at large. To help more buyers view our listings we have incorporated a 3D Walk-Through Tour into our marketing package. Using a Matterport 3D camera we are able to capture almost every surface of the home. This allows interested buyers to tour the property from the comfort of their own home and then decide whether to make an in-person visit with their agent. Click the image below to take a tour of one of our current listings at 779 Spruce Street in Berkeley.
Real Estate Has Been Deemed Essential but This is Not Business as Usual

Coronavirus has changed the world as we know it and the effects and externalities will be impossible to predict. Some of the adjustments are straight-forward - For every in-person showing in California everyone entering the home must sign a waiver, and then only two people from the same household plus one other person are allowed inside and must maintain six feet of social distance.
While some adjustments are complex and unknowable - what happens if changes in the market force the lender to remove their mortgage commitment once the offer is accepted? Today it is more important than ever to protect yourself when transacting. Whether that means leaving a contract contingency in place or obtaining a back-up preapproval, just in case.
Selling Your Home?
Get your home's value - our custom reports include accurate and up to date information.
Get Home Value